For many varying physical activities and sports, the concept of inclusivity is difficult to comprehend. They often require extreme modifications to accommodate individuals with diverse abilities, which can make it challenging for full participation – leaving countless individuals feeling excluded and discouraged from pursuing their fitness goals.
Yet, in the world of martial arts, there's a different story to tell. It's a story of empowerment, resilience, and adaptability that transcends age, physical limitations, and preconceived notions.
Think about this: when you hear the term "martial arts," it's not uncommon for images of Bruce Lee-like agility and lightning-fast kicks to come to mind. While Bruce Lee is indeed legendary, he is more of an exception than a typical martial arts student. Martial arts offer an achievable goal for people of all ages and abilities (including those who might live with daily physical/mental challenges) to gain a sense of self-assurance and the ability to defend themselves within the unique framework of their capabilities.
Our revolutionary online martial arts program stands as a testament to this inclusivity. We recognize that not everyone can be Bruce Lee, but we firmly believe that everyone can discover their inner warrior, regardless of their physical circumstances. We're breaking down the barriers that often hinder people from exploring martial arts in a space where anyone can learn, grow, and uncover the potential that lies within.
Martial arts aren't just a workout; it's a journey toward self-improvement and empowerment that's open to everyone, regardless of age, physical ability, or experience level. It's time to discover the ways our online program is revolutionizing fitness, self-defense, and personal growth, ensuring that martial arts truly become an art for all.
Adaptive Martial Arts
In the world of physical fitness, we often encounter barriers that hinder full accessibility.
According to the European Physical Education Review (2021), "physical education scholars have raised concerns about the discriminatory nature of integrated physical education classes which can fail to facilitate full access to the curriculum or resources for individuals with disabilities. This may, in part, be due to physical educators celebrating the existence of students with disabilities in a general education space as being a success, rather than focusing on creating an environment where those students achieve success or enjoy their experience.

The discriminatory nature of physical education may also be highlighted in instances where teachers are resistant to change and unwilling to adapt or rethink the nature of activities to facilitate access to their classes. For example, physical education classes that are structured around competitive sports and games (that are not adapted) may communicate specific ideals about what abilities and bodies are valuable within physical education contexts, and those who do not match up with those ideals, who may include those with disabilities, are removed, limited, or discouraged within activities".
Limiting the scope of those who can truly participate and enjoy the benefits of a healthy and active lifestyle has placed many physical activity options on the back burner. Those who work through physical/mental challenges daily often require flexibility, compassion, and patience and many programs just don't measure up.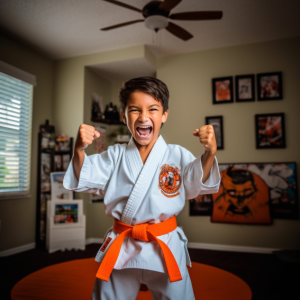 Here's where martial arts stand out as the best solution. Unlike many other activities, martial arts are inherently adaptable. It's a discipline that can be tailored to the individual, allowing people of all ages and abilities to engage in a meaningful and empowering journey towards better health and self-defense.
Our online program is especially fitting for the flexibility that many differently abled students require. Because we are online, our classes can be enjoyed anywhere, anytime. For those students who have other responsibilities or schedule conflicts, our program fits in wherever they have availability. But that's not the only thing that sets us apart from other martial arts classes…
Our team specifically designed the curriculum for the ease of the student – that means you begin with the fundamentals and only build upon those skills as you get better. There is no chance that you'll feel as if you're falling behind because each student has an individual course plan that fits their needs. If you need to work on a certain challenge, you can – it won't hinder your progress or put you behind.
In addition, our instructors are available any time: if there is something that you're having trouble with or you need to change your trajectory, let them know. Remember that your martial arts journey with us is unique to YOU – we want your experience to be fulfilling and successful.
Discovering (and Empowering) Your Inner Warrior
"Routines, structure, and expectations are very crucial to children with special needs, as transitions can sometimes be difficult to manage" (Neff, 2021).
We recognize that routines and expectations are important for many individuals with differing challenges, so our online dashboard was designed to be clear and informative: once you find your personal routine for learning/practice, the curriculum clearly supports your journey through a pre-planned set of goals that are easily trackable. There is no ambiguity about where you are headed or what is expected of you to move forward.
Since routines and practice time are initiated by the student when their schedule permits, the pressure and stress of attending in person classes does not exist. While structure is vital for many who experience challenges, our flexibility allows our students to determine where and when that structure exists. We have found that this environment is especially conducive to those who are differently abled.
"(Disabilities) should not be viewed from a linear medical perspective but need to be understood from a system's approach with its psychological and social (public health) environments. Interventions focusing only on body functions and structure are not only reductionistic but also ineffective" (Samuel, 2018).
In other adaptive sports, it can be discouraging for those with varying challenges as many organizations cannot modify their instruction and still manage to retain the integrity of the sport. In addition, many sports can only offer the physical benefits of participation rather than the full physical/mental/emotional development that accompanies martial arts instruction. It can become an environment of adaptive participants that feel excluded due to their physical restrictions. Martial arts can focus on the physical abilities of the individual and create a training program around those strengths without compromising the quality of instruction and continuously building mental and emotional strength during the process.
It's also important to note that because martial arts are an inherent confidence builder, setting a foundation of strength and empowerment is a natural byproduct of practice. Empowerment is rooted within self-esteem and self-assurance and as our students progress through their individualized programs, their confidence increases by achieving the goals set before them.
Our program allows students to have control over their progression – we are geared towards flexibility in learning. This sense of control not only empowers our students to move forward and build upon their strengths but also provides motivation to grow mentally and emotionally.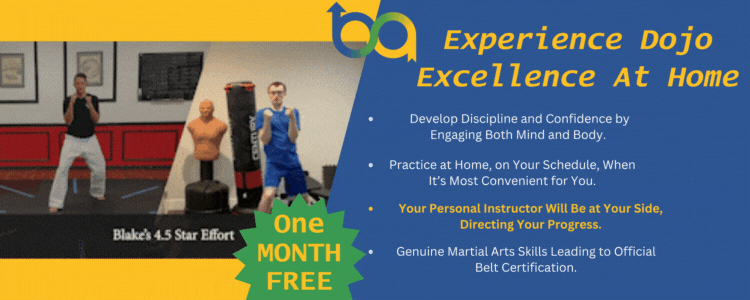 Traditional fitness programs often create unintentional barriers, limiting access to exercise and personal growth for a diverse range of individuals. As we've explored, martial arts transcend these barriers, offering a welcoming and adaptive path to fitness and self-defense. It's a discipline that allows people of all ages and abilities to become the best version of themselves, embracing the warrior within, regardless of their physical challenges.
Our online martial arts program is just one example of how technology and innovation are opening the world of physical fitness to everyone. It's breaking down geographical and physical limitations, making the empowering world of martial arts accessible to anyone with an internet connection. The journey to better health, self-confidence, and physical prowess has never been more attainable.
The path to self-improvement is open to everyone, and it starts with the first step—whether it's a punch, a kick, or another exercise designed to meet your unique needs. Martial arts truly embody the spirit of inclusivity and adaptability, proving that no matter who you are, you can be a martial artist.
References
European Physical Education Review. (2021). Barriers and facilitators to inclusion in integrated physical education: Adapted physical educators' perspectives. Retrieved from https://files.eric.ed.gov/fulltext/EJ1294438.pdf
Neff, Madison, "Virtually Left Behind: The Struggles of Adapted Physical Education Through Online Learning for Students with Special Needs" (2021). Capstone Projects and Master's Theses. 1088. https://digitalcommons.csumb.edu/caps_thes_all/1088
Samuel, R., & Jacob, K. S. (2018). Empowering People with Disabilities. Indian journal of psychological medicine, 40(4), 381–384. https://doi.org/10.4103/IJPSYM.IJPSYM_90_18